The Bregenz Festival attracts more than 200.000 visitors every year. In the months of July and August culture lovers from all over the world can enjoy more than 80 performances.
Due to COVID-19 no shows could take place. Therefore, the joy was immense to be able to play again this year for the 75th anniversary and to experience the revival of Guiseppe Verdi's "Rigoletto" on the lake stage.
As the largest of its kind in the world, the lakeside stage does not only impress with fantastic artists and unforgettable stage sets, but its incomparable acoustics also delight its guests. For many years, the Bregenz Festival has placed great emphasis on the latest technologies, on the one hand to meet the high technical and structural requirements, and on the other hand to provide its audience with a unique experience through maximum system stability and quality.
Just in time for the start of the new season, key components of the existing audio system were completely renewed and extended for average monitoring. Two PRODIGY.MP from DirectOut, configured in MirrorMode (redundantly to each other), are the new link between the individual building sections of the congress centre, including the various audio formats that are used.
Clemens Wannemacher, head of the audio department of the Bregenz Festival, became aware of the PRODIGY series at an early stage. During the planning phase, Wannemacher gradually became aware of the key role that PRODIGY.MP could play in the complex infrastructure of the festival due to its flexibility and scalability. Originally intended as a multi-format converter between MADI, Dante, RAVENNA, analog and AES3, PRODIGY.MP with its extensive DSP resources turned out to be the all-in-one solution.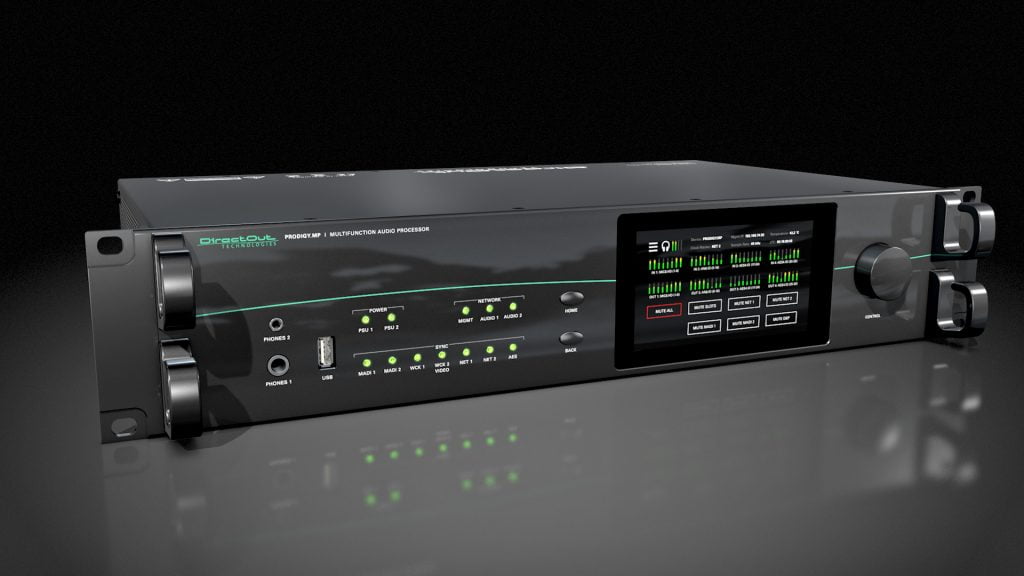 Clemens Wannemacher: "The original concept was, that after format conversion by PRODIGY.MP, the additional rack mixers were no longer necessary. This not only saved us costs, but also limited the operation to only one device, which makes it easier to find and hopefully solve problems in case of errors. Another important criterion that speaks for PRODIGY.MP is the sophisticated redundancy concept with various strategies to minimize system and signal failures."
In addition to the redundancy switching 'EARS', which detects a signal failure at all digital multichannel inputs and automatically switches to an alternative signal-carrying source, the MirrorMode also came into play. Here, selected parameters of a main unit are automatically taken over by a mirror unit whenever they are changed. In the event of a main unit failure, it is thus possible to switch immediately to the mirror unit and continue working with the identical configuration. Such a high level of redundancy is essential for the Bregenz Festival, as the PRODIGY.MPs centrally connect the main venues of the Bregenz Festival House, including the lake stage with galleries, the large hall, the workshop stage and the Vienna Symphony Orchestra's square, and must function without failures or interruptions.
Wannemacher comments: "Using PRODIGY.MP has simplified various workflows for us, such as the monitoring of all sums generated in the Lawo mc² 96 mixing console, which are transferred to the PRODIGY.MP via the RAVENNA format, and from there are available as AES3 and analog signals to all major protagonists at any time. The same applies to the test operation, where we are now in a position, by means of the TouchOSC App, that every user from anywhere in the area can get hold of and control those controllers he really needs."
Jan Ehrlich, Managing Director at DirectOut: "It is always special for a manufacturer's product management and R&D team when there are customers like the Bregenz Festival who have the opportunity to fully integrate and maximize the use of such a powerful product as PRODIGY.MP - a special motivation also for our team. Clemens Wannemacher and his team have really dealt intensively with PRODIGY.MP and its possibilities and did not shy away from discussing their own project and the device concept intensively with us and our Austrian partner POMTEC. This way we were able to convey to the customer the maximum of what the product is capable of in its setup, to integrate it perfectly and to control it comfortably and to increase the redundancy level significantly. In turn, it was a great incentive for us to prioritize a feature we had already planned, the MirrorMode, and offer it to the Bregenz Festival in time for rehearsals for the new season."