Systems Engineer Chris Goddard discusses the installation of 15 DirectOut PRODIGY Series for Timeline TV's coverage of two high-profile, televised sporting events.
Timeline TV is one of the UK's leading providers of broadcast technologies and services, supplying broadcast infrastructure to some of the biggest sporting and entertainment events, both in the UK and worldwide.
Last year the company provided the framework for two high-profile, internationally-televised sporting events in Birmingham (UK) and Qatar, requiring the design of a new cutting-edge audio routing and distribution system.
A large-scale operation that presented the audio team with a number of technical challenges – including comms, clocking, routing, redundancy and format conversion – the system was designed to provide comprehensive, networked audio between the IBC (International Broadcast Centre) and multiple sporting venues, located across a variety of different sites.
Systems Engineer Chris Goddard spoke to Synthax UK about the important role the system played for Timeline's live TV coverage, which was based around 15 DirectOut PRODIGY Series and EXBOX.RAVs.
"One of the main objectives was to build a system that could be moved between events in a relatively straight-forward manner," says Chris."
"In Birmingham, all of the different locations were connected solely via IP. Video, audio, comms. Each venue had its own LAN, interconnected via a WAN, which was managed by a third-party company."
The system was designed to facilitate the routing of both program audio and comms between the IBC and various sporting venues across the city of Birmingham and the Midlands, via an ethernet-based infrastructure. The issue of clocking was resolved by generating a local PTP clock signal in each location, using a GPS-locked Sonifex AVN-GMCS.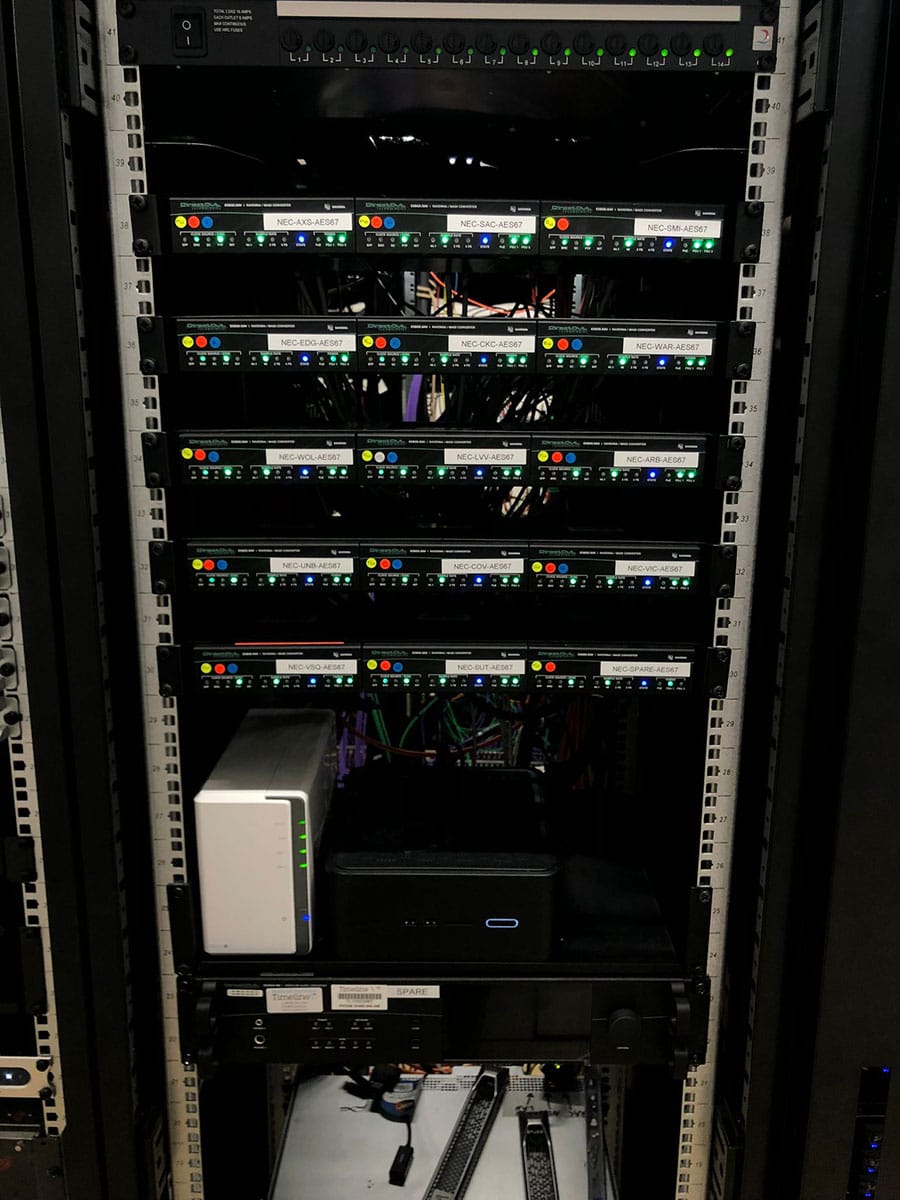 "The DirectOut PRODIGYs were essentially an extension of the video router, which had an audio layer presented via MADI to the 15 EXBOX.RAVs at the IBC – one for each venue," Chris continues."
"Audio signals were then encapsulated into RAVENNA streams, to be transported across the WAN to the various Prodigys around the city; which in turn were used to break out the audio to Analog or MADI, as required at each venue."
"Every PRODIGY also had a MADI connection with SRC available, in the event an ad hoc rightsholder needed to take or provide a feed, making it very easy for another OB Truck, for example, to gain access to the whole system's audio."
"A Cerebram control system provided the IBC and the venues with access to all of the resources across the entire network, with Riedel talkback panels (on their own VLAN) on a separate network connection or VLAN back to the IBC, where the comms frames were located."
With the event proving an unmitigated success, the system was once again deployed by Timeline for a second prominent international sporting event in Qatar at the tail end of 2022, this time as part of the comms system.
"The choice of the DirectOut products was key to rapid redeployment/reconfiguring in the short period of time between events," says Chris.
"Their devices are always a first consideration whenever MADI is involved. And having worked on some other projects that have involved their implementation of AES67/RAVENNA/ST2110-30, it's again always a first consideration. There's not much else out there that combines everything in the way they do."

Chris Goddard
"In Qatar, the PRODIGYs were repurposed to become an extension of the Riedel comms system. So, AES67 (rather than the previous RAVENNA) over a network link back to the IBC, but this time remaining as AES67, and not converted back to MADI."
"Subscriptions could then be made to and from the IP-based comms system, providing analog 4-wires at the various venues."
The DirectOut PRODIGY.MC is a powerful and highly flexible audio converter designed for use in professional live sound, broadcast, installation and studio recording applications.
Fully modular, the PRODIGY.MC is available in three different versions (Essential, Advanced and Unlimited), and can be configured to meet a wide range of specified requirements, such as bidirectional conversion between analog and digital signals, signal distribution, streaming audio, conversion between audio networks and MADI environments, and conversion of different MADI signals.
Control and signal routing is offered via the globcon control software – a browser-based GUI – or directly from the front panel via the IPS touch-screen display, whilst the Advanced and Unlimited versions add DirectOut's FastSRC and summing buses.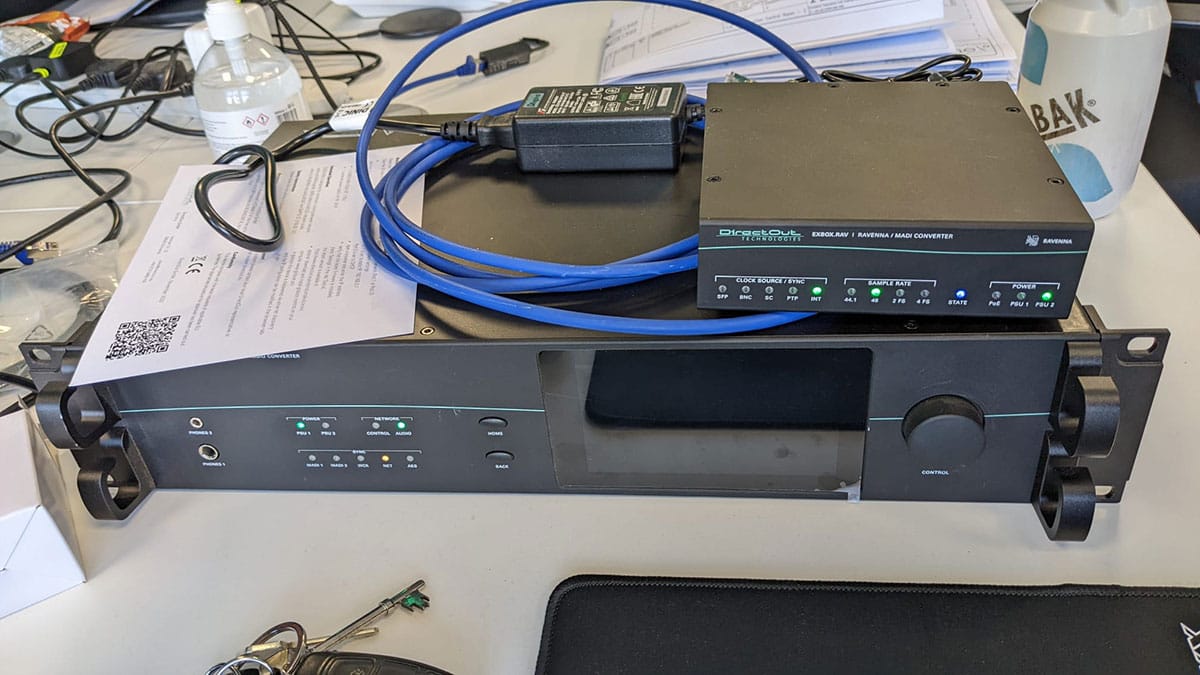 "The DirectOut PRODIGY's flexibility in supporting different AoIP profiles made it a straightforward process," enthuses Chris. "They're one of the only companies with really solid MADI implementation – whether it's generating a signal or locking to it, they just do it so well."
"Time is often of the essence on these jobs, and DirectOut devices always tell you exactly what's going on – the PTP timing graph for example, that shows you precisely the current and historic jitter, whether it's locking, all that important information."
"There's also plenty of status LEDs that show you straight away, 'I'm happy', or 'I'm unhappy', via a quick glance at the front panel. There's no ambiguity, and I really like that in equipment."
"DirectOut are also very responsive as a company. Diligence in testing is extremely important to what I do, and if you need additional information they're very open in terms of 'this is the information, this is the system, this is what you should do to mitigate against a problem etc'."
"Globcon was a huge help as well, it certainly made my life easier. We had 15 Prodigys and EXBOX.RAVs in the system, spread across multiple geographical locations, and with globcon I can easily see all of the connected devices, with individual metering and monitoring, and access to configuration if and when needed."