The challenge – exchange multiple channels of uncompressed audio between two locations approximately 20 miles apart…and can it possibly be extended to any other location(s)……anywhere on the planet?
These were the questions that Stephen Bailey had in mind when he started redesigning the audio transport system for Passion City Church in Atlanta (USA). The main church campus complex is called 515, located just outside the downtown area, while a second location stands 14 miles north of Atlanta in the Cumberland area. A third building is based in Washington D.C. while other potential locations are planned to be built in the surroundings of the biggest city in Georgia. Passion City Church not only has members from all over the USA, but has a significant global reach as well.
"At our two main church locations the problem was that we didn't have a reliable, efficient way of passing audio back and forth" comments Stephen referring to 515 and Cumberland, "When I came on board a little over a year ago, we were using embedded audio over SDI to send audio back and forth, and it was very clunky. The audio was low resolution and noisy, the latency was high, and we had to rely on the video engineers to do all the routing, making us completely dependent on them to get the audio."
In order to streamline that process a dark fiber connection between the two locations was added. Deciding on which audio protocol should be used to transmit audio, Stephen wanted to rely on an AoIP transport that could be maximized from this type of connection today and be flexible and scalable for the future.
"We knew it was going to be an Audio over IP protocol, but I wasn't completely settled on which one yet" says Stephen, "I'm very interested in looking ahead to ST2110 and with that in mind, after some investigation and consulting with the DirectOut team, it was clear that RAVENNA was definitely the right choice for us: it's turn-key ready for ST2110, and with DirectOut's implementation we can set up multiple streams with one IO device at different latencies. This is a huge benefit when you are doing something like linking multiple bands at different locations live while simultaneously broadcasting the event. By giving different streams different buffers, low latency and high quality are achievable using the same devices and infrastructure."
Both 515 and Cumberland buildings were equipped with a DirectOut PRODIGY.MC, the modular audio converter. Each unit counts 128 RAVENNA channels, 64 MADI channels, and 16 analog inputs and outputs, but additional slots remain available to add analog or AES3 modules if required.
The RAVENNA streams are currently traveling through a WAN between the two churches with a sort of point-to-point connection, but as the system will be scaled adding further locations, audio will be available throughout Passion's entire Meraki network and even over the internet using a VPN service, where broadcast quality audio could be linked globally at any point.
"We have 128 channels going both ways right now at a latency of 2.67 milliseconds, but we could safely lower buffers to an unreal 16 samples, if needed. We have one PRODIGY.MC at each location. I'm sort of calling it the transport box. For utility or emergency audio linking we have the analog inputs and outputs routed as tie lines between locations."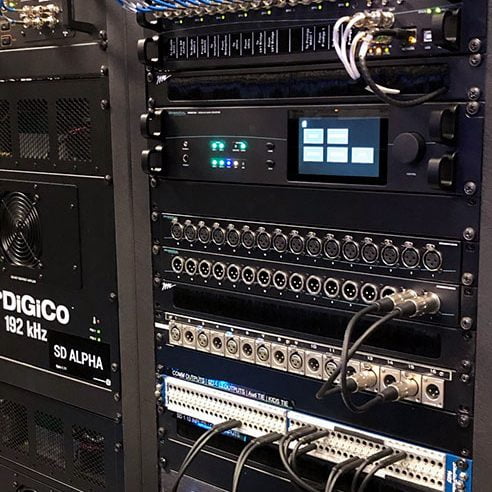 Each PRODIGY.MC is connected to a DirectOut M.1K2, a MADI router capable of handling up to 1024x1024 audio channels. The numerous MADI signals running inside each building all converge at the MADI routers. From there, they are sent to the PRODIGY.MC to be converted into RAVENNA and travel through the dark fiber.
"We ended up putting MADI routers at each location and have made AES10 the backbone of our location audio infrastructure. Week to week we use more than 500 channels of routing, each router functioning as that location's audio hub, so to speak" explains Stephen, "There are multiple MADI networks: outside of Optocore we interface extensively with DiGiCo racks and desks using MADI. We have SoundGrid networks used for mixing, processing and recording which we have hitting the router. We're sending all four of our SD racks from both locations down to a ProTools HDX system in our studio over fiber via the router so we can patch, track and record anything from any location. We're also using some black box MADI recorders for media archiving, and so on. So adding the M.1K2's made a lot of sense for us."
In this scenario the clock management is also handled via DirectOut devices. Sample rate conversion is required between the video and the audio systems. Right now, each location has its own independent audio sync that comes from DiGiCo. Two DirectOut MADI.SRCs are used to decouple the audio going to and from the video routers.
"In total we have four clock domains between the two locations" says Stephen, "We're working to get that down to one. But until we roll out GPS units, we use DirectOut SRCs to float clocks between these networks and they work very well."
Based upon the successful implementation of this project, Passion City Church plans to expand the system not only geographically, but also in terms of DirectOut equipment: MADI monitoring devices may be integrated to allow Stephen and the team at Passion City to listen to the different MADI signals at each location, while the new SoundGrid module for the PRODIGY Series could be included for a better integration of the entire transport system with the local Waves environment.
"We are very happy with what we achieved with the system" comments Stephen, "For instance, when we are doing line checks at different locations, I could be talking to somebody on our shout system who is 20 miles down the road and they sound closer than my A2 sitting behind me! It's instant, and we haven't had a single issue since we deployed it."