The Australian company tm stagetec systems is appointed as 'Distributor of the Year' for 2020, while SeeSound (Spain) and ITR Engineering (Russia) receive the 'Outstanding Sales Performance' and the 'PRODIGY of the Year' awards.
'Distributor of the Year'
After a very successful 2019 which already granted tm stagetec systems the award as 'Rookie of the year', the company not only was able to repeat a great performance in terms of sales, but fully demonstrated itself as a '360 degrees' partner for DirectOut, emphasizing once more the significance of the brand's name and products within the Australian continent.
Jan Ehrlich, CEO of DirectOut, is happy to state: "tm stagetec has demonstrated a very deep knowledge of our entire portfolio during the recent years. At the same time they used this to consult the clients at best and reached out to every single opportunity the market presented. Even though our relationship is still quite young, we are a well-coordinated team with the same customer-oriented understanding."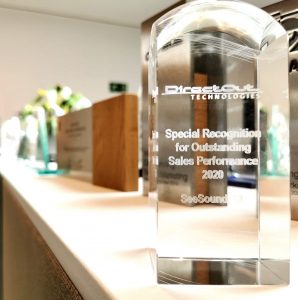 'Outstanding Sales Performance'
SeeSound has already been the distributor of DirectOut products for the Iberic peninsula for a few years and the relationship between the two companies has been very positive since day one. After a kick-off year in 2018 and a constant growth in 2019, 2020 was finally the year of collecting the fruits of the seeds planted. For this reason DirectOut has been very pleased to recognize SeeSound with the 'Outstanding Sales Performance' award.
'PRODIGY of the year'
Furthermore DirectOut honored the distribution partner which performed best in promoting and selling the new PRODIGY Series. ITR Engineering, formerly known as Audio Solutions, did a great job in introducing the Series to the Russian market.
Yuriy Cheshev from ITR Engineering comments "On behalf of ITR, I would like to thank DirectOut for this award. We are very pleased that you have appreciated our efforts in the Russian market. And we hope for an even more successful cooperation for the future! Good devices from you, good sales from us"
Ehrlich concludes "In such a difficult year for the entire audio industry, flexibility and creativity were required for the sales business. Many of our distribution partners have succeeded very well. We are particularly pleased with our business relationship with the three companies, which have been extremely successful during this time."