Das australische Unternehmen tm stagetec systems wird zum 'Distributor of the Year' für 2020 ernannt, während SeeSound (Spanien) und ITR Engineering (Russland) die Auszeichnungen 'Outstanding Sales Performance' und 'PRODIGY of the Year' erhalten.
'Distributor des Jahres'
Nach einem sehr erfolgreichen Jahr 2019, das tm stagetec systems bereits die Auszeichnung 'Rookie of the year' bescherte, konnte das Unternehmen nicht nur eine großartige Leistung in Bezug auf den Umsatz wiederholen, sondern sich auch als '360-Grad'-Partner für DirectOut beweisen und einmal mehr die Bedeutung des Namens und der Produkte der Marke auf dem australischen Kontinent unterstreichen.
Jan Ehrlich, CEO von DirectOut, freut sich: "tm stagetec hat in den letzten Jahren ein sehr tiefes Wissen über unser gesamtes Portfolio bewiesen. Sie haben dieses Wissen genutzt, um die Kunden bestmöglich zu beraten und jede einzelne Chance, die der Markt bietet, zu nutzen. Auch wenn unsere Geschäftsbeziehung noch recht jung ist, sind wir ein gut eingespieltes Team mit dem gleichen kundenorientierten Verständnis."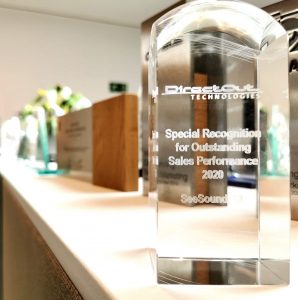 'Outstanding Sales Performance'
Bereits seit einigen Jahren vertreibt SeeSound DirectOut Produkte auf der iberischen Halbinsel und die Beziehung der beiden Unternehmen war vom ersten Tag an sehr positiv. Nach dem Start 2018 und einem konstanten Wachstum in 2019 war 2020 schließlich das Jahr, in dem die Früchte der gepflanzten Saat geerntet werden konnten. Aus diesem Grund freute sich DirectOut sehr, SeeSound mit der Auszeichnung 'Hervorragende Vertriebsleistung' zu ehren.
'PRODIGY des Jahres'
DirectOut zeichnete außerdem den Vertriebspartner aus, der die neue PRODIGY Serie besonders gut beworben und erfolgreich am Markt platzieren konnte. ITR Engineering, bisher unter dem Namen Audio Solutions bekannt, hat bei der Einführung der Serie auf dem russischen Markt hervorragende Arbeit geleistet.
Yuriy Cheshev von ITR Engineering: "Im Namen von ITR möchte ich mich bei DirectOut für diese Auszeichnung bedanken. Wir freuen uns sehr, dass Sie unsere Bemühungen auf dem russischen Markt gewürdigt haben. Und wir hoffen auf eine noch erfolgreichere Zusammenarbeit in der Zukunft! Die hohe Qualität ihrer Geräte wird von unseren Kunden sehr geschätzt."
Ehrlich fasst zusammen: "In einem für die gesamte Audiobranche derart schweren Jahr, waren Flexibilität und Ideenreichtum für das Vertriebsgeschäft gefordert. Vielen unserer Vertriebspartner ist das sehr gut gelungen und wir freuen uns besonders über unsere Geschäftsbeziehung mit den drei Unternehmen, welche in dieser Zeit überaus erfolgreich waren."