DirectOut präsentiert eine neue Audiolösung in Zusammenarbeit mit dem dänischen Designer und Hersteller von universellen Broadcast Control Panels SKAARHOJ. Kunden haben nun eine neue Möglichkeit, den Multifunktions Audioprozessor PRODIGY.MP zu steuern.
 
SKAARHOJ hat DirectOut in sein BluePill Ökosystem integriert. Dies ermöglicht es Kunden, SKAARHOJ taktile Panels zu verwenden, um mehrere PRODIGY.MP Parameter von einer Desktop- oder Rack-Oberfläche aus zu steuern - jedes SKAARHOJ Panel spricht über das Netzwerk direkt mit dem PRODIGY.MP. Die Integration der SKAARHOJ Audiocontroller-Serie mit DirectOut eröffnet den Anwendern neue Möglichkeiten, wie z.B. die Möglichkeit des Live-Mixings.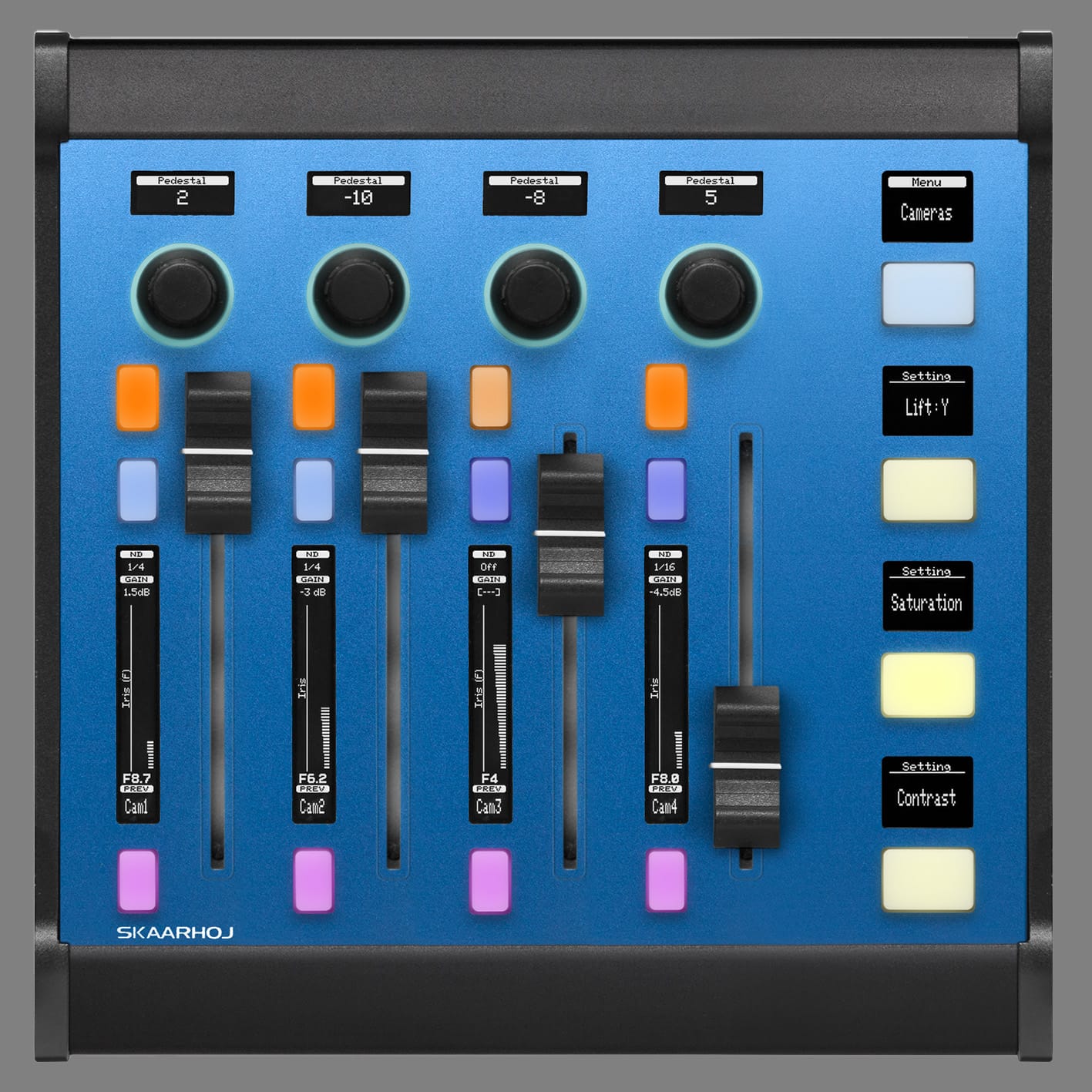 "Wir wollten die Möglichkeiten der Steuerung unserer PRODIGY Serie über taktile Lösungen für verschiedene Anwendungen erweitern, um den Anforderungen und Gewohnheiten unserer Kunden gerecht zu werden", sagt Jan Ehrlich, CEO von DirectOut, "daher war es ein großartiges Timing, als SKAARHOJ die Idee hatte, das PRODIGY Steuerungsprotokoll in ihre BluePill-fähigen Controller wie das WaveBoard zu integrieren. Für unsere Kunden ist es ein perfektes Match: die Steuerung der leistungsstarken DSP Ressourcen von PRODIGY.MP über eine Oberfläche von SKAARHOJ, einem agilen und lösungsorientierten Unternehmen, das stets darauf bedacht ist, seinen Kunden die bestmögliche Steuerung für die anstehenden Aufgaben zu bieten."
PRODIGY.MP, ohnehin schon eine leistungsstarke Lösung, macht in Verbindung mit einem SKAARHOJ Wave Board oder Wave Board Mini die Arbeitsabläufe in vielen Anwendungen noch komfortabler. Das Wave Board dient nicht nur zur Steuerung von PRODIGY.MP. Aufgrund ihrer Flexibilität und ihres kompakten Formfaktors sind SKAARHOJ Controller und PRODIGY.DSP Power die perfekte Ergänzung, insbesondere für OB-Broadcast- und Remote-Produktionssysteme, bei denen Skalierbarkeit und begrenzter Arbeitsraum die Grenzen darstellen. Für Live-Anwendungen stehen motorisierte Fader Banks, Encoder für Gain/Pan-Einstellungen und Tasten für Mute/Solo-Funktionen zur Verfügung, um ein Event zu mischen oder ein PA-System zu tunen.
Maciek Janiszewski, Head of Global Sales and Support, fügt hinzu: "SKAARHOJ ist bekannt für seine Video Controller für Kameras und Mischer. Mit der neuen WaveBoard Hardware und der neuen BluePill Softwareplattform war es jedoch offensichtlich, dass wir in den Bereich der Pro-Audio-Anwendungen expandieren sollten. DirectOut ist der perfekte Partner, um uns dabei zu unterstützen, unser Geschäft in diese Richtung auszubauen. Die Lösung, die wir mit der Hilfe von Jan und dem DirectOut Team entwickelt haben, kommt gut an, und wir sehen eine erfolgreiche Zukunft für uns."
Besuchen Sie uns auf der NAB, Stand C1713.